Supermoto is a well known discipline of motorsports and closely related to dirtbikes and growing in popularity fast around the world.
Where it started
Supermoto has his origin in France, where some guys had a good bar-discussion on which discipline of motorsport had the best riders (known as "Motards" in France), they ended up setting up a competition where every element of 2 wheel motorsport comes to play.
Every track of a official supermotard track is about 60% tarmac an 40% dirt, testing the allround capacity of the rider in dirt, sliding on tarmac and some touch of speedway.
they picked a modified dirtbike as their weapon of choice, being light and suited with large travel suspension these bikes are perfect for all the jumping, sliding and crashing involved.
The winner was called the "Supermotard" and crowned best rider of the year.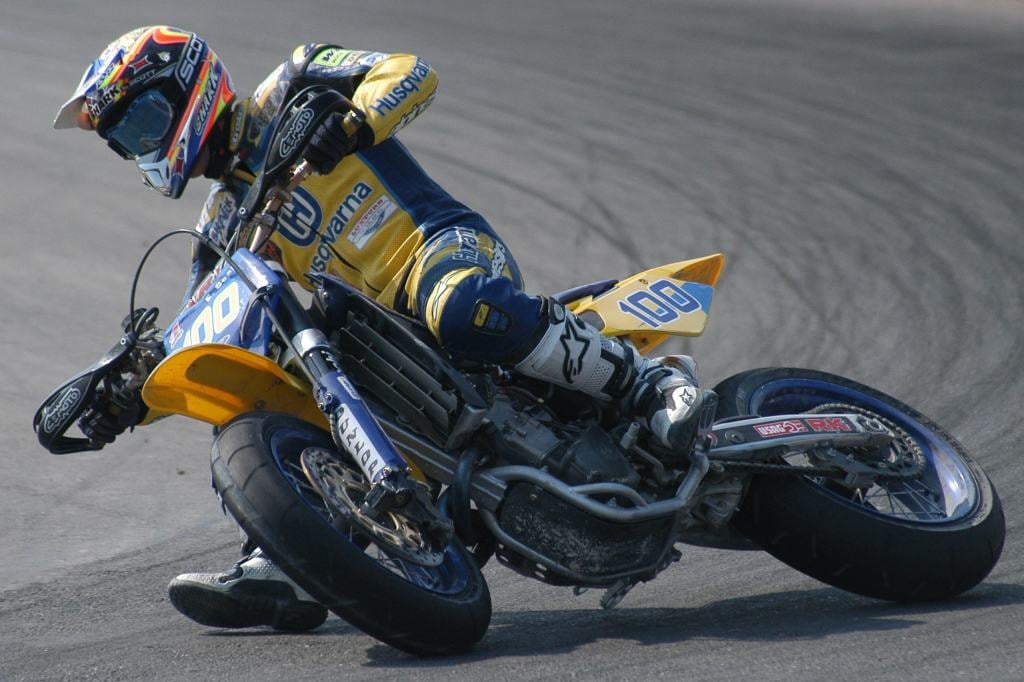 So where do you want to start with?
First you need to chose a bike, keep these things in mind when choosing a bike:
Do i want a bike licensed for the public road?
Do i want to ride competition or just for fun?
The two questions above give you a great insight on what to buy and what not.
Do i want a bike licensed for the public road?
Road legal bikes tend to be a bit more pricy (at least over here in the Netherlands) but they also provide you with the great pleasure of riding trough the countryside or town and causing havoc while at it.
KTM and Husqvarna sell a lot road-legal (EXC & TE) bikes that provide great performance combined with reliable technique
Do i want to ride competition or just for fun?
Another important thing to keep in mind when you planning on buying a supermoto is that the high performance dirt bikes like KTM SX-F, Honda CRF, Kawasaki KXF, Suzuki RM-Z and Yamaha YZ-F will need more frequent service because they make a lot of power out of those small engines.
So buying a bad-ass thumper will get you out of the gate first but it will also do some damage in the wallet.
Bought the bike, now what?
If you bought a dirtbike or endurobike and you are planning on converting it you probably will need the next parts to make it a awesome supermotard.
With these mods you can make a great supermotard and have much fun while converting it. 
Our good friends from Supermofools made a great video about rebuilding a supermoto, this will give some nice insight on building and converting a bike:
With all info above you should get a idea about what to expect if you want to dive into the supermotard world, you can expect a lot of fun and adrenaline as result when you step on your new bike soon!
If you need anything, feel free to contact us and we will get it done.
Credit pictures : supermotopics